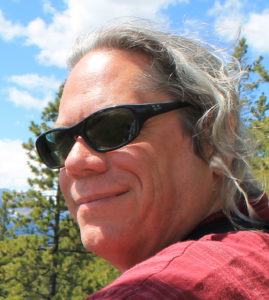 The other day I watched John Oliver blow up 2016 on TV. He had a point. This year has been kind of a drag. All the way to the Longfellow neighborhood in South Minneapolis 2016 has dragged me down. Not one but two iconic establishments closed, Patrick's Cabaret and Harriet Brewing. While the Cabaret remains a vibrant part of the TC arts community through other venues, the brewery is gone for good. That triangle corner at the south side of East Lake Street along Minnehaha Avenue will never be the same. Something in the wave of new businesses rolling up the Minne-Mile from the south and the parallel light rail a few blocks to the west, tells me that the ex-brewery space won't be long empty. The historic firehouse, converted to theater space for Patrick's in 1998, has reopened as The Hook & Ladder Theater and Lounge and is already full. Maybe 2016 ain't so bad after all, if we look with a positive spin. Stick with me a moment, because it gets even better.
Turns out that one of the people involved with The Hook is Jesse Brodd. He's a big part of Crafted to Last – Minnesota Beer Blossoms, my home-brewed documentary about the recent expansion of local brewing in MN released in 2014. His art and willingness to be filmed while he worked, whether building a tap room or painting, were the source of the most visually intriguing parts of the film. He introduced me to Zack Lozier who wound up composing an original score for Crafted to Last, and recording it in his home studio with the help of local musicians. Four years on, Jesse has a new space just blocks away from where we first met. That Brodd is still organizing music and art events, now with Nobool and the Firehouse Performing Arts Center (FPAC), and working hard to sustain a cornerstone of the TC theater community, reassures me that downtown Longfellow will continue to be a vibrant part of the Minneapolis arts and music culture.

When Jesse invited me to the Peace Forum at The Hook last month, it connected with current events and what I have been doing since 2014. I first heard about the Peace Forum when Jacque Erickson-Urrutia, Shanna McCann, and Adriana Cerrillo were working to make it happen. The first event on 11/29 was a combustive work of dynamic art, throwin' off sparks in a gallery full of powder kegs, hope, and open arms. It featured the President of the Minneapolis Police Officers Federation on stage with a City Councilperson, members of the Police Conduct and Oversight Commission, and an array of social justice advocates and activists, at a public forum held in a comfortable, inviting space. With plenty of fresh hot food donated from right around the corner by El Nuevo Rodeo and an abundance of space, we the people could breathe and mingle, before, during, and after the intense 90 + minute public conversation. When Commissioner Cerrillo told me that FPAC had donated the theater, opened early to accommodate panelists, and volunteers ran all the sound and lights, it was clear that something positive was happening on South Minnehaha Avenue. That night, The Hook made good on the 17 year legacy of the firehouse forged by Patrick's Cabaret  into a safe space for positive civic engagement. Chris Mozena, Executive Director of FPAC, summed it up, "[This is] a big part of who we are, and certainly this is the community we serve."
The Peace Forum lived up to its name. Exchanges between the panelists were frank, pointed, civil, and honest. Raeisha Williams, candidate for City Council in Ward 5, looked four seats to her right and into the eyes of Lt. Bob Kroll, "Police need to start seeing us as human beings worthy of dignity and respect", she told him straight. Reverend DeWayne L. Davis reiterated that point, "Change your frame. We are not your enemies. Our streets are not a war zone." Susana de Leon, TC attorney, was ready to talk about solutions, "It is a good idea that police be from the neighborhood they serve." Asked what programs the Federation might support to address these concerns, Kroll recalled a discontinued program, "We used to partner civilians with police officers, like a mentorship for people in the community. Not sure why that program is no longer around." Candidate Williams acknowledged the effort, "I had never heard about Bob's good program. Love the mentorship program", then she informed Kroll, "The people that need it are not getting information about these programs."
The panel discussion opened to the public for Q&A. The people united, were ready, and they were comin'. People spoke out and said it plain. Maybe because we were in a firehouse, people recaptured their flame when they put themselves out. "I witnessed the murder of my friend on my phone, in real time! I'm scared of you Bob Kroll", John Thompson, co-worker of Philando Castile at St. Paul Public Schools, reminded the Police Federation President, "Stop killing us."We all became witnesses that night. I doubt that any one human being in that room was untouched. I truly hope that these few words might evoke at least a sense of the collective succor we brought forth into that room and a piece of it will find a way to your hearts. Just a little might go a long way through this winter and into next year. I'm pretty sure we'll need it.
"We are not your enemies. Our streets are not a war zone." – Rev. DL Davis
Next I heard, The Hook was hosting a benefit for Stand with Standing Rock. It became a public address system with local art, music, and community support. On December 9 the Rock for Standing Rock benefit raised money to help Oceti Sakowin Camp survive the winter. Just before the benefit began to blaze in the lounge, Chris Mozena and Jesse Brodd talked to me about the theater, their vision, local artists, and why they kept putting on shows before theater was open.
The benefit raised about $6500 and brought together a community of people around the idea that water and cultural legacy of indigenous people are more important than fossil fuels or the profit margins of massive corporate conglomerates. "I believe we need to respect indigenous people's rights", says Kristi LeMair, organizer of the Rock for Standing Rock event, "but its better to take action and show it". The large turnout and generosity of the TC community did not surprise LeMair, "I am so proud of our Twin Cities community of artists, performers, and donors! I love Minneapolis even more today than yesterday". Emilie, vocalist with the Wailing Loons, was glad to perform, "Its great to be able to play our music for people that came together to support such an important cause."  Firehouse Performing Arts Center Board Member Jesse Brodd agreed, "Its a community effort to come together to raise money and awareness for what's happening with the Dakota Access Pipe Line and the Water Protectors."

I don't really blame Oliver for hating on 2016. He and his writers are comedians, so they tend to see tragedy around them. I'm OK if my version of 2016 comes after his fire burns out. As long as a positive spin gets into the mix. Maybe that is how the phoenix knows to arise, it feels the ash turn the other way. When I joined the crowds and got a glimpse behind the scenes, I saw the ash blown away. The Firehouse rises, under old management, to sustain Longfellow, and so much more. A common theme in the threads of this story is resistance. Resistance to injustice, to indifference, to negative events and people. Rock for Standing Rock and the Peace Forum generated positive energy that I hope can be turned to some kind of soothing tonic for all the wrongs of which this story is barely a hint or a whisper. Somewhere in these words, images, and sound I wish you will find a few grains of solace and a firm foothold or two. Stay strong and spin positive.
"We need to respect indigenous people's rights" – K. LeMair